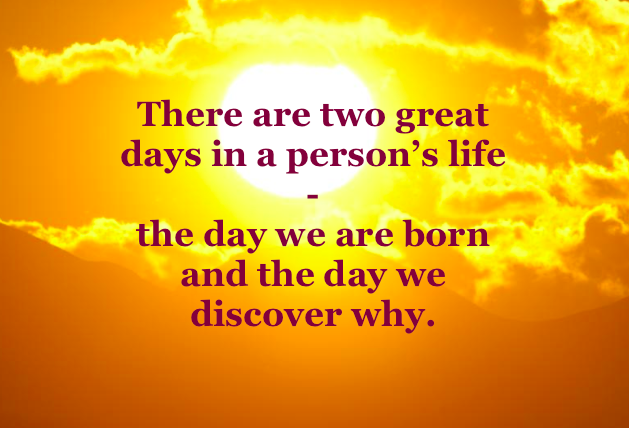 29 Jun

Why, Tell Me WHY

Want to quickly spot the differences in a transformative leader and a transactional manager?

The former invests more time in articulating the why behind what we do – and the how involved in achieving it.

The latter invests more time in the what– to include constantly harping on results but often without adding legitimate value to the discussion. Like a team captain who constantly posts scores but doesn't offer solutions, many managers simply don't have the tools to affect the game – and so they default to an endless stream of numbers that restate the obvious.

And team members grow more and more frustrated. 

Purpose in our professional lives can be difficult to find – often obscured by extrinsic motivators like salary, bonus, rewards systems, and yes – the omnipresent manager who proclaims, " We must do MORE."

Why is WHY so very important?Because it speaks to our essence as human beings – without purpose we are simply workers. Inspiration begins with the heart – not the head, even for the most "left-brain" of us. Martin Luther King's impassioned plea to the American public offered a refrain that became a part of the national psyche.

"I have a dream."

It did not offer the plan – it did not speak to the specifics of the results that would someday be represented by the Civil Rights Act and other measures. No, it began with an elegantly simple message that eventually resonated.

Like Lincoln, Churchill, and others before him, King understood great leaders unite their followers by helping them find legitimate purpose – purpose that aligns with their own individual values.  Said another way – they tap into the intrinsic motivators that fuel passion.  And nothing transcends passion in building success.

The same holds true in the business world

Transactional managers affect the hands and feet – "Do this and I will reward you."  A recipe for success but not sustainable in the long term – there are other rewards that can be offered elsewhere … new company, new division, new job.

Transformative leaders affect the heart and the head – "Do this and you reward yourself."

One approach stimulates compliance – the other, commitment.

Guess which one is sustainable.

I'm reminded of a comment I heard years ago – a disenfranchised colleague set to leave our company whom, in a moment of candor, offered this final commentary on her frustration with her current status quo.

"Want to know the difference in a leader and a manager?" She asked.

"A leader has your back…a manager just stays on your back."

A few key facts to ponder.
Some 70% of the American work force remains disengaged in their jobs and careers
The greatest determinant of employee engagement – their direct supervisor
Draw your own conclusions.