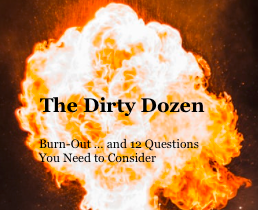 10 Dec

A Quick Self Check on YOUR Career

Some 70,000 people will voluntarily leave their jobs in this country today – many without another position to replace it.  The reasons are myriad but without question the degree of disengagement that carries employees down the road to burnout is predictable.

Loss of purpose > loss of direction > loss of inspiration > full burnout.

Approximately 70-75 million of the approximately 105 million workers in the United States are somewhere in the cycle.

You may be one of them.

Want to test that supposition? Here's a simple quality test for you to consider – I call the 12 questions The Dirty Dozen – a bit of  homage to the movie of the same name. They're tough, they're no-nonsense, and the only way they will work for you is if there is brutal candor in answering them.

No one sees the results but you.

And forget the "I'm a professional…this doesn't apply to me" mentality.  Every one of us deals with the same motivators – and de-motivators, in our work lives, whether you're a fry cook or a Chief Executive Officer.

Want to take a shot at The Dozen?

On a 1 to 10 scale (1 is the "low of the low" and 10 is the "high of the high"), how would you "score" each of the following as regards your place of employment?
I believe my supervisor/manager (insert whomever you are accountable to here) is credible and deserves his/her current assignment with the company. (1-2-3-4-5-6-7-8-9-10)
I trust my supervisor/manager to do the right thing. (1-2-3-4-5-6-7-8-9-10)
I trust the people I work with. (1-2-3-4-5-6-7-8-9-10)
The individuals I work with care about me – and I care about them.(1-2-3-4-5-6-7-8-9-10)
I believe in the future of this company. (1-2-3-4-5-6-7-8-9-10)
I have a clear vision of where my company is going – and how I fit into that big picture.(1-2-3-4-5-6-7-8-9-10)
I have clarity of direction and clarity of expectations in my current assignment. (1-2-3-4-5-6-7-8-9-10)
I am part of a work team that understands what we must accomplish and why we must accomplish it. (1-2-3-4-5-6-7-8-9-10)
I operate in an honest and transparent work environment. (1-2-3-4-5-6-7-8-9-10)
I enjoy a sense of purpose that excites me in my current role. (1-2-3-4-5-6-7-8-9-10)
It's OK to disagree here – and to challenge the status quo. (1-2-3-4-5-6-7-8-9-10)
I'm getting better with my professional skills and I get honest, objective feedback on my performance.(1-2-3-4-5-6-7-8-9-10)
Now, tally your scores. Here is your grading guide.
If you scored 96 or better you are in a healthy place overall – and very atypical for most working Americans.
If you scored somewhere between 85 and 95 – you're in a solid job/profession and well ahead of the masses as regards your current assignment.
If you scored somewhere between 72 and 84 – you're still reasonably satisfied but there are potentially warning signals you need to be aware of.
If you scored between 60 and 71 – you're likely in a reasonably disengaged work situation – and yes, far more prone to job dissatisfaction and more likely to leave your place of employment.
If you scored between 48 and 59 – unhealthy work environment and it's likely the "best you" is not being optimized.
If you scored 47 or below – highly probable that you are struggling and you're at risk for full burnout.
Simple test. Embedded in the content are critical factors that speak to the real motivators that propel us – people, leadership, and culture.
Consider what this 3-minute diagnostic is really telling you – and what it means for your future.
70,000 walk away every day. Three questions I would ask you to consider:
How many move to a healthier place?
What do the questions tell you about YOU?
What can I do about the results above?
You'll spend approximately 100,000 hours in your career journey.
Will it be the greatest investment of your life – or simply a withdrawal of the precious hours that constitute your time on earth?