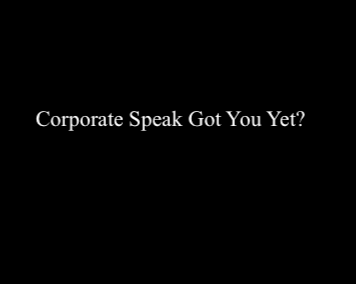 15 Mar

In Your Career, Space ISN'T the Final Frontier

I got pulled into a Black Hole a number of years ago.

Well, not in the literal sense but the feeling must have been somewhat similar to the deep space version – or at least I tell myself it was.

A deep empty void – confusing – without definition – and seemingly endless.

 

Mine was not quite as far reaching – there was oxygen there though it seemed to be seeping out at a rapid rate.

My guess is that many of you have experienced something similar – if you are in the business world I guarantee it.

At the time I was crafting a business proposal and an action plan. Generally a fairly simple process – until I got "crossways" with what I now call "corporate speak."

Corporate speak represents the sometimes contradictory, always confusing organizational language most companies create to try and express basic principles in a way that few to no one really understands – best characterized by overlapping waves of additional verbiage to further confuse.

(And yes, I went out of the way to make the above definition a true reflection of "corporate speak.")

Let me give you an example – I subsequently created a notebook of terms to record/remember these. If you are charged with running some portion of a business my guess is you will recognize catch phrases that would make the comic strip character Dilbert proud.

Here are just a few we toss out when we want to find a way to express key factors associated with a Business or an Action Plan…(and if these in some way make you a bit nauseous I apologize in advance.)

The list includes:
Strategic Milestones
Key Performance Indicators
Strategic Pillars (remember, anything with strategy attached to it HAS to be good)
Mission Imperatives
Critical Success Factors
Business Priorities
Lead Indicators
Lag Indicators
Goals
Objectives
Vision Statement(s)
Organizational Mission Statement(s)
Purpose Statement(s)
Tactics
Value Statement(s)
Strategic Imperatives (note earlier comment about the intrinsic value of any phrase that attaches "strategic")
Strategy (hey, I had to have it there somewhere)
OK, you get the picture.
This is not intended as an indictment of business planning. But it's not planning that makes the difference – it's execution.
I share this because sometimes we can't manage to get out of our own way – and unknowingly introduce our own impediments to effective execution.
I remember leaning over to a colleague at a meeting once and asking for clarification on a phrase that had been dropped into the dialogue.
I had never heard it before.
Her answer was priceless.
"Does it really matter?"
Here's what I learned.
Simplicity is powerful – VERY powerful.
Not every topical phrase of the day has to make its way to your company – and if it comes from a select few who've fallen in love with the sound as it slips off their tongues then you can assume it will not resonate.
Consultants (and today I am one) carry a lot of stuff with them. Some of it actually helps a company improve its bottom line. A lot of it is just….well, stuff. Draw your own conclusions.
Most companies need a clearinghouse to remove ambiguity – and yet siloes continue to build that complicate.
Someone somewhere could make a million bucks just compiling a working Company Thesaurus – but the weekly updates would make it all but impossible.
I survived my Black Hole – and eliminated 80% of the terminology around planning and execution.
Today I carry with me a working tool that we use with clients to effectively "kill the little darlings" that frustrate and confuse across a broad array of topics.
It's a powerful exercise – some would say cathartic.
Less can be more.
But if I were really smart I would give a lot of thought to the Thesaurus thing.