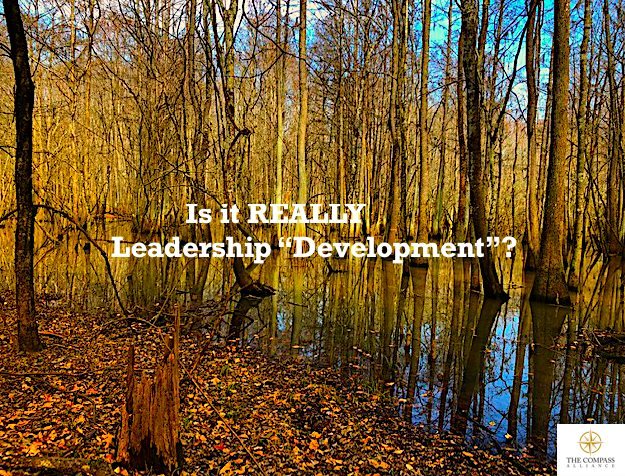 17 Aug

The ONE Department of Your Company That Might Be MOST Important

Here's an early "tell" on the companies that will soar as the ravages of COVID begin to subside.

Guaranteed.

In an era of budget cuts and the mad dash to salvage the bottom line, some organizations will take a bold step into the future.

They'll actually invest money and resources to address the greatest of challenges – building leaders equipped to deal with a future unfolding in real time.

In other words, they'll swim upstream while almost everyone else is praying to maintain the status quo – and spiraling toward extinction.

There is method to the madness of the former. It's because they've already spotted the falls downstream.

Traditional Management Development

If you scratch the surface of how most organizations identify, develop, and nourish their leadership ranks you will find a fairly predictable menu of resources. Most house a Leadership or Organizational Development department and sponsors a curriculum that:
Aligns with a company mandated competency model
Integrates in some way with the organizational vision and overarching strategy
Is intended to either churn out new leaders – or make existing leaders better
Some disproportionately focus on only first and second line leaders – others invest in senior and executive programs. More expansive programs touch all. Some outsource completely  – while others produce and deliver a blend of in-house and external (and often in conjunction with academia).
Whether global or domestic – the model is fairly consistent – and has been for decades.
Changes – when they do occur – are often of a minor order. Leadership, some might argue, hasn't radically shifted on its axis in the last 50 years.
UNTIL NOW.
The leadership skills that got us "to here" clearly are not going to get us to the "new there" – not by a long shot.
Consider today's turbulent waters:
Employees and the rising tide of "virtual work"  – the implications of technology that was either non-existent or infrequently used even a decade ago
The "engagement" of employees operating in this new environment – and the concomitant effect on morale, productivity, and execution (placed against the backdrop of 85% DISENGAGEMENT globally pre-COVID)
The criticality of strategy – as companies, faced with fewer resources and diminished revenue, compete with others to regain market share – or even to rebuild a market
The metamorphosis of coaching models – often delivered remotely and balanced against a radically different management-employee contract
The increasing challenge of cross-divisional collaboration – and the reality that many companies have operated in silos for years
The human aspects involved in helping people balance all of the above – to include family, work, and social responsibilities – even as the pandemic hovers overhead
This is business NOT as usual. 
Assuming leaders are equipped to address these challenges isn't just short sided – it's potentially deadly.
Leadership Development just moved to the top of the queue for the most progressive companies.
So, how are a few of the best responding? By looking closely at the changing environment – and asking themselves five tough questions – namely: 
Where are we at right now with our business?

What have the first 8 months of this year taught us?
What happened – what didn't happen?
What have we witnessed as regards our market- our customers – our competition – and our own company?

How did we get here?

The formal After Action Review – what did we hope to accomplish – what did we accomplish – and what are the relevant insights?

What were the breakdown points – why did they occur – what did we learn?
Where do we enjoy critical strengths – relevant weaknesses?

How well positioned is our current leadership team to address each of these points?

Where do we want to be?

What are our business objectives over the remainder of our fiscal year – and beyond?
What is the competency model required of leaders to advance these goals?

How will we get there?

What's our strategy for the new world? How must it change?
How will we optimally invest our resources in order to compete?
What are the implications for leaders?

What results do we expect and when?

What are the goals for the new?
How do these goals transfer into our business objectives?
What will we ask of all levels of leadership that we haven't before?
Moving to The "Now WHAT"?
The lessons of the pandemic will be far reaching – and, as the saying goes, "The past is not dead…it's not even the past."
Some organizations will learn from 2020 – some will work very hard to change nothing.
For those who decide to swim upstream there are points of commonality. We're seeing a focus on just a few. They include:
The Fundamentals of Coaching in the New Environment
Leadership/Executive Presence in the Virtual World
Strategic Execution (Different Thinking – Resource Application – Unique Activities)
Time and Energy Management
Building Cross-divisional Collaboration
Communication and Information Sharing
The New Client interface
Account Management and the Revamped Value Proposition
Building Employee Engagement in the New Environment
I first became actively involved in Leadership Development in the 80s. I've NEVER seen a more compelling call to action for those responsible for cultivating the next generation of leaders than what we're experiencing right now.
There is no status quo in moments of crisis – the world moves too fast for that. We're either getting stronger or we're atrophying. If your company is a part of the latter then you better grab a barrel because it's going to be a bumpy, bumpy ride.
I think I can hear the falls ahead.