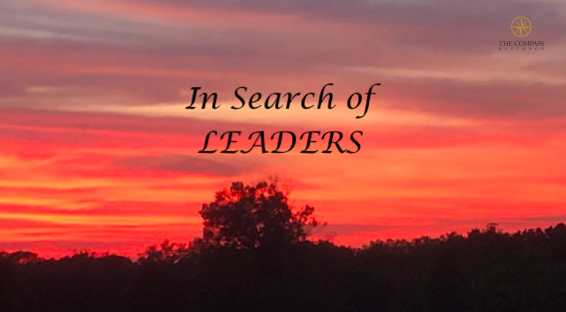 07 Oct

The Answer May Be Right in Front of You

I occasionally get to step out of my "day job" – and do a little give back as regards helping professionals in their career journey.

To be fair – career counseling isn't my primary gig anymore- even though I wrote a book on how to build a successful career – and have penned more than my share of articles on the subject. Most of my consulting practice is wrapped around the catalyst that drives great companies and great careers – leadership. 

It's rewarding work – authentic leaders are in short supply – and their ranks are diminishing with many companies – replaced by legions of managers equipped to "handle things".

Leaders do much more than handle things  – they influence people.

Managers, at their very best, elicit compliance. To survive COVID we need commitment – the exclusive domain of LEADERS.

A great percentage of the folks I offer counseling support for find themselves surrounded by the former – but anxiously searching for the latter.

The most noticeable symptom – the lack of feedback, encouragement, and practical insight from the very people they assume should be offering it. Or even more damaging – the sometimes highly negative comments that cause them to either lose hope or their sense of direction.

Which reminds me again that the greatest predictors of career satisfaction tend to always go back to:
The person you report to
The culture you are a part of
And the feedback, support, and encouragement that propels you in the journey
Sometimes I'm able to offer a bit of perspective – drawn from some of my own experiences.
I share, for instance,  the conversation I had with a line leader many years ago when I first began to contemplate a move into management. The advice I received – take the next 5 years to demonstrate value – and maybe then you'll be considered.
Why 5 years I asked. Is there something magical about that number?
No, he responded, it's just the way we do things around here.
I still remember my exasperation at that answer.
So, if I move heaven and earth I am still on the 5 year plan?
It sounded a bit like indentured servitude. Put in your time and then you become propertied.
I was able to shift that paradigm – but more important, I gained some insight around the opinion of others. No matter their title or their pedigree – an opinion is ONLY an opinion.
That's something I reinforce again and again to those that I counsel. There is only one CEO in your career journey – and you look at that person in the mirror every day.
Criticism from others isn't a death sentence – in fact it might be the rarest of gifts.
I'm an historian – and a collector of stories. I have a large repertoire to pull from that emphasizes this very point.
Consider the various recording studios that rejected the little music group from Liverpool – or the executive that stated plainly to The Beatles…."guitar bands are on the way out."
Or the doting mother who tried to explain to her daughter that her voice wasn't quite good enough for the performance stage – and of course her looks precluded an acting career. Barbara Streisand thought otherwise.
The San Francisco Examiner harshly rejected a submission by an aspiring writer – stating simply, "We're sorry, but you just don't know how to use the English language." Apparently Rudyard Kipling figured that out.
"Children just aren't interested in witches and wizards anymore." So said one of the many publishers that rejected J K Rowling's manuscript.
He didn't speak a single word until he was 4 years old – and his early teachers considered him mildly retarded. Some of them openly criticized him for questions that seemed incredibly vague. But Albert Einstein apparently found his groove.
Stephen was rejected 30 times with what would be his first novel. It was only when his wife rescued it from a trashcan that Stephen King became a published author. Some 400 million books sold later – that might be the most profitable garbage dive of all time.
One of his first managers fired him for not being creative enough. His cartoon idea was similarly rejected – "too scary for women" was the feedback. Walt Disney disagreed. Together with the character others thought so little of – Mickey Mouse – he strode into history.
Cut from his high school team as a sophomore, he would later lie his way into a camp for aspiring college athletes – and still not get noticed enough to get picked up. But the early rejections spurred a fire in Michael Jordon – and basketball's king was born.
Shawn Carter couldn't catch a break – no label would sign him and the rejections were particularly harsh. With no path forward he did the seemingly impossible – he founded his own company to play his music. He and his partners made it work – today most people know Shawn by his stage name – Jay Z.
Frustrated by your current circumstances? Aggravated by a manager who tears you down rather than build you up?
Join the ranks of virtually every successful person in human history.
Rejoice – you're in incredibly good company.
And if you're looking for that leader that will ultimately change things for you – well, take a second look in that mirror.
And believe.