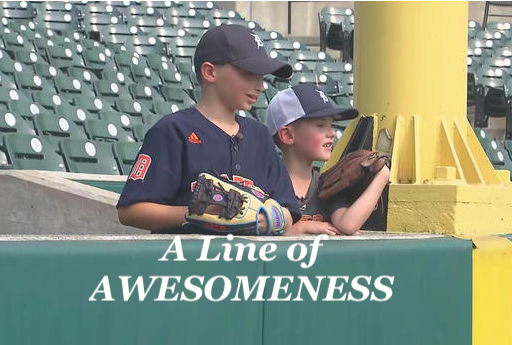 19 Aug

A Kid's Game

A 10 old boy named Travis Blackwell reminded me this week of a vital lesson I sometimes seem to forget.

Travis was in the stands at a Detroit Tigers baseball game when his dad snagged a foul ball and tossed it to him.  The big screen caught the moment and the look of excitement that crossed his face as he celebrated.

The television announcers pointed him out on the air, the crowd cheered, and that might have been the end of it – except it wasn't.

It seems Travis was aware of another boy – seven-year old Michael Ogden, who was in the stands some dozen rows below – and celebrating his birthday with his family.

Travis asked his dad if he could give the ball to Michael and then trotted down to present him with a very special birthday gift.

Michael – as you might imagine – was blown away.

For a brief time everyone in the stadium suddenly focused less on the game and more on a simple act of generosity – even the announcers shifted to this little boy with a big heart.

That might have been the end of it – Travis' 15 seconds of fame over. Except the very next night Michael had another ball presented to him by an adult that had made a catch.

Two balls – on consecutive days  – a seven-year old boy's dream.

But then a funny thing happened. Michael gave the ball to a little girl seated behind him.  "It was her first baseball she has ever had. " Michael said.

Paying it forward.

In an interview after the game Travis told us all the rest of the story – citing an experience of his own several years before when an adult had reached out to him at a game – offering him a baseball that was destined to become much more than a simple souvenir.

Travis – it seems – learned more from that gesture than most of us do in a lifetime.

One act of authentic generosity – without promise of reciprocity – which he passed along to a seven-year old.

And they call us the adults.

As I write this blog I find myself reflecting on so many people in my life – both personal and professional – who stuffed gifts in my hand without expectations attached.

Done simply because it was the right thing to do.

In this world of self-indulgence – with leaders who sometimes seem more inclined to point the finger toward themselves for praise and others for blame maybe we can all learn something we can pay forward ourselves.

As regards little Travis – well, he described it best when he heard Michael had passed a ball along to that little girl.

"A line of awesomeness," he said.

It's a line we could all tap into, Travis.